Wellington Yachts is proud to have been named the exclusive U.S agent for new and pre-owned Bruckmann Yachts.
For more than half a century, the Bruckmann family has been building not only top-quality boats, but also a reputation for unparalleled craftsmanship. As a result, the Bruckmann name has been synonymous with top-quality sail and motor yachts since the 1960s.
Old World Boatbuilding Craftsmanship
German cabinetmaker Erich Bruckmann immigrated to Canada in the 1950s and took up a new trade building and repairing wooden boats. Erich, along with George Cuthbertson and George Cassian, founded C&C Yachts soon after.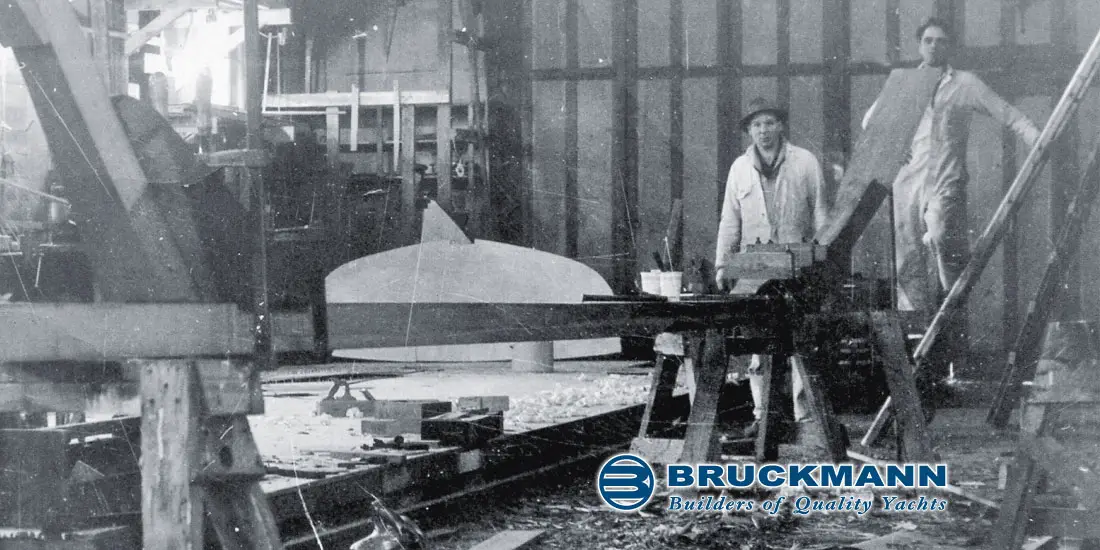 Wellington Yacht Partners is the Exclusive North American Agent for Bruckmann Yachts
Yacht Racing Dominance
For the next quarter century, Erich Bruckmann ran C&C's Custom Yachts Division, where he was instrumental in the construction of some 200 custom and semi-custom boats. These included the legendary Red Jacket, a 40-ft fiberglass/balsa sloop that utterly dominated racing in the summer of 1966 and was the first Canadian boat to win the famed Southern Ocean Racing Circuit.
A New Generation of Craftsmanship
Today, Erich's son Mark carries on the family tradition of building the highest caliber classic sailing and motor yachts. From a new and larger facility outside Toronto, Mark leads a team of craftsmen – including many C&C veterans – as they combine old-world skills with today's modern materials, tools, and techniques.
The Tradition Continues
Modern Bruckmann Yachts, both sail and power, continue to embody the finest attention to craftsmanship and detail. As always, they are timelessly designed, purpose-built, and tailored to the specific requirements of the owner.
For Wellington Yachts, partnering with a boatbuilding legend such as Bruckmann was a rare opportunity that couldn't be missed. We look forward to many years of connecting our clients with the finest and most sophisticated yachts on the water – and the craftsmen who build them.
For more information on Bruckmann sail or power yachts, contact Wellington Yachts today.