Beyond brokerage, the brokers of Wellington Yacht Partners offer project management services, including Spring Commissioning, to clients on the East Coast who may be struggling with COVID-19 delays and constraints.
Here at Wellington, we offer more than just brokerage services. The COVID-19 pandemic, and the tough situation that it left many yacht owners in, served to highlight some of the background pre- and post-sale work that our brokers offer to clients. Though many brokers (including us!) serve as consultants or liaisons to help clients communicate and negotiate with yards and contractors during a deal, we take it a few steps further. Several of our brokers started off as yacht captains & managers, and continue to offer their services to select brokerage clients.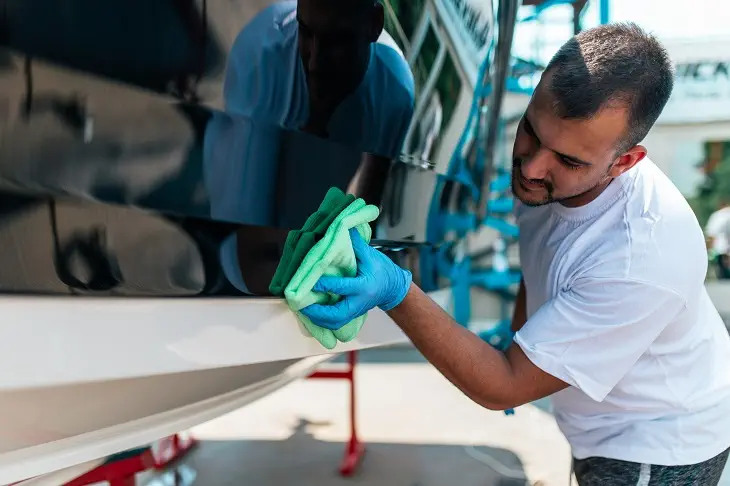 Due to the Coronavirus restrictions, many yacht owners have found themselves facing constraints and delays with spring commissioning. Yards are still operating with reduced capacity, under strict health & safety guidelines, and many of them are not allowing access to any non-employees. Many of our Wellington clients have taken advantage of our close relationships with the yards and contractors to ensure a smooth and timely launch of their vessels.
Spring Commissioning: You Can't Skimp!
Most experienced boaters know that – at least in New England – you can't simply splash your boat in May and set sail if you expect everything to function smoothly. Properly commissioning your boat for a season of enjoyment entails several key steps, including:
Removing shrink wrap or canvas winter covers
General clean up and detail of the interior and exterior
De-winterization and commissioning water systems
Anti-fouling touch-ups on the bottom paint and running gear
Refreshing varnish on teak or mahogany trim
Commissioning and inspecting the engine(s)
Installing sails if necessary
Safety systems and gear check
Moving your boat to the desired location
While most shipyards will offer most of these services, it is easy to understand how projects are sometimes overlooked on some boats. Even during the best of times, the sheer volume of tasks the yard is responsible for across many hundreds of boats is impressive – and all in the span of a few weeks! It is rare to encounter an owner who has never had to return their boat to the yard to have a system flushed or to dispute a billing mistake. This is one of the many examples of headaches that will be avoided by leaving your boat in the hands of a knowledgeable manager who has spent his/her career forming relationships with the yards and the contractors. We know what to look for, how to get it done, and how to handle things when they go wrong or get missed entirely.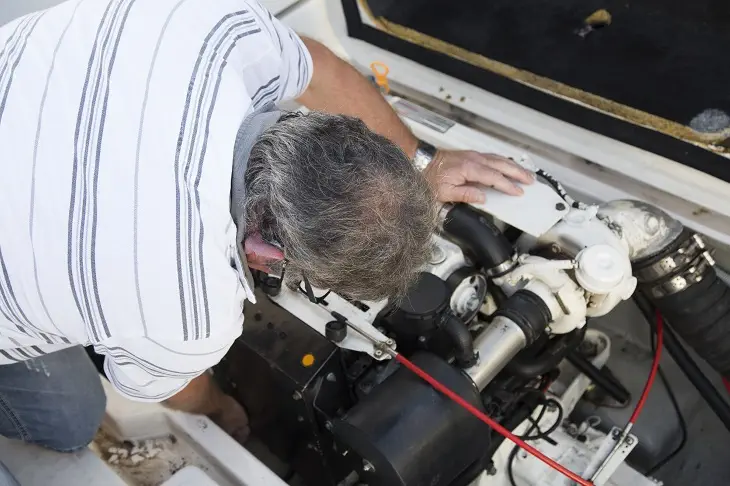 The Important Role of the Commissioning Project Manager
Like many of his fellow Wellington reps, Bill Haynie, a Wellington yacht broker, was a full-time Captain and Yacht Manager for many years. He reiterates the obstacles owners are facing and the ways a Project Manager can assist:
"Most of the yards have access restricted to "employees only" right now. They may allow an owner to come in, pick up his boat and leave, but it is not like the normal level of access, where the owners can come in, mingle, do some of their own work and meet their contractors. It's definitely not business as usual.

If your yard happens to be up and running, be aware that many of them are running 3-to-6 weeks behind schedule. This tends to exacerbate their already epic springtime workload, which can sometimes lead to the checklist missing a few… checks.

Experienced owners know that a project manager keeping an eye on the process is worth the investment. On average, for every dollar I charge as a manager/consultant, I am saving that client at least two dollars he would have spent needlessly without me."
Set Sail Sooner and Protect Your Investment
Wellington Yachts is a full-service brokerage that goes just a little bit further for its clients, doing everything in our power to ensure that you get the boat of your dreams and that you enjoy it to the fullest.
Contact us today!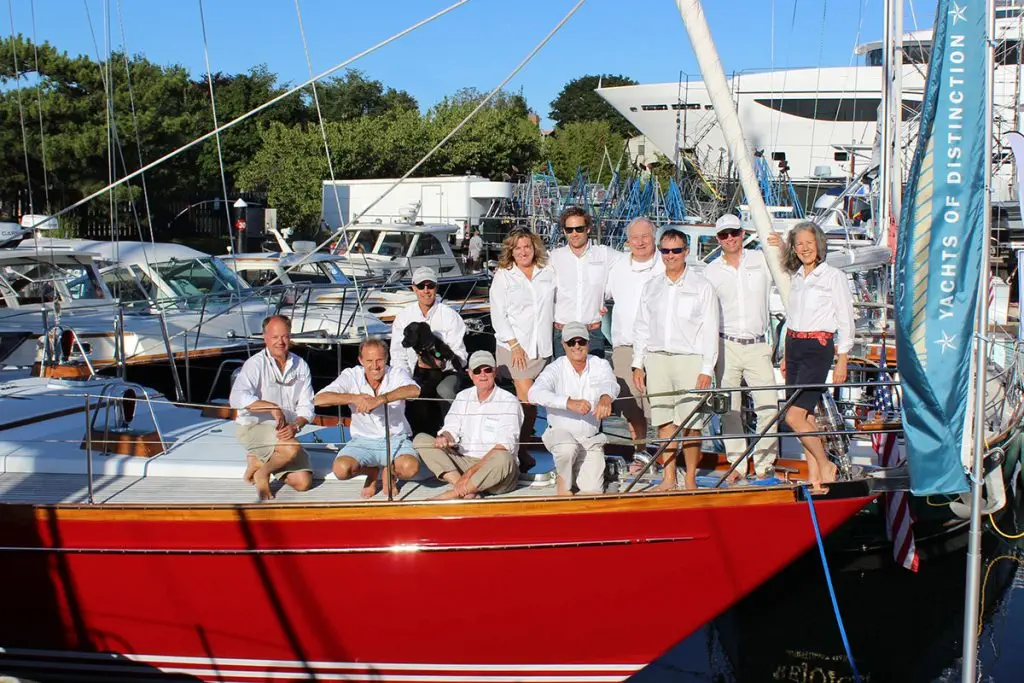 Team Wellington once again turned out in force this September to represent many beautiful yachts during this year's Newport Brokerage Boat Show, located at The Newport Shipyard, Newport, RI. Yachts included in our 2019 in-water display were:
PALAWAN – 75′ Little Harbor Custom, 1991 S/Y
MATAWAI – 67′ Oyster 655, 2008 S/Y
LYNLEY III – 60′ Little Harbor, 1994 S/Y
HOPE – 56′ Hylas Yachts, 2012 S/Y
GALADRIEL – 54′ Little Harbor, 1989 S/Y
AURORA – 36′ Hunt Harrier 2014, M/Y
DAYGLOW – 36′ Ellis Express, 2013 M/Y
LOGOS – 36′ Hinckley, 2000 M/Y
MISS JOANIE – 29′ Hinckley T29R, 2005 M/Y
We are happy to announce that MATAWAI, 2008 Oyster 655, and GADABOUT, 2004 Bruckmann Bluestar 36.6, are under contract as a result of the Show!
The Newport Brokerage Boat Show, where over 100 Sail & Power Yachts from 40′ to 180′ are on display, runs concurrently with the Newport International Boat Show in September. Admission is free, and there is a water shuttle from the dock to the International Boat Show. We hope to see you there next year!!
Wellington Yacht Partners is pleased to announce the sale of CABOCHON, the 92' (28 m)Hood/Fontaine Custom Pilothouse Cruising Cutter. Dolf Haffenreffer of Wellington Yachts represented the Buyer and Chet Hartshorn of Wellington Yachts acted as Co-Listing Agent.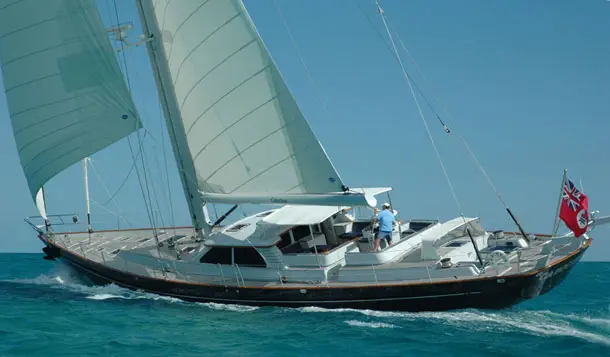 Designed for global adventuring, CABOCHON has a raised pilothouse with inside steering station, shoal draft and a foil-shaped centerboard for upwind performance under sail. Construction is fiberglass with laminates of Kevlar for strength and rigidity. With her Hood/Fontaine low-wetted surface hull form, there is unparalleled volume below-decks.
CABOCHON's spacious accommodations and living space are rarely found in a sailboat of her size, especially one that sails like her and that captures the eye with such flowing and beautiful lines. She sleeps six adults and two children in the owner's party — with three large private staterooms aft, split-level dining/lounge areas amidships, and two en-suite cabins forward of the galley for crew.
Ted was lucky to get out of the office for a few days for a relatively slow but enjoyable 635 mile race from Newport to Bermuda on the Hood/Lyman Morse 60 WINDWALKER II — his third race on the boat since selling her to the owner in 2010.
Many other Wellington clients were also in the race, with boats that included a Bristol 43.3, Oyster 53, Little Harbor 54, Hinckley 59 and Little Harbor 78.