Credit to Stephens Waring Design: FALLEN IN LUST: BILL HAYNIE ON ZEMPHIRA Posted on October 25, 2022 and filed under SWD News & Stories 
Following a 10 year career at sea as a yacht captain, Bill Haynie moved ashore to Newport RI and now works as a broker with Wellington Yacht Partners in Portsmouth, RI. He draws from his experience to offer continued project and program management services to select clients via his company Ransom Marine. 
Bill has been working closely with SWD since 2020 when his client purchased Zemphira (originally launched in 2005 as Goshawk).  Work included rebuilding to a demanding specification needed to satisfy a rigorous racing and cruising program of her new owner. We invited him to weigh-in on Zemphira, racing, and the performance of the boat after a major design renovation from Stephens Waring Design, carefully implemented by Lyman Morse Boatbuilding.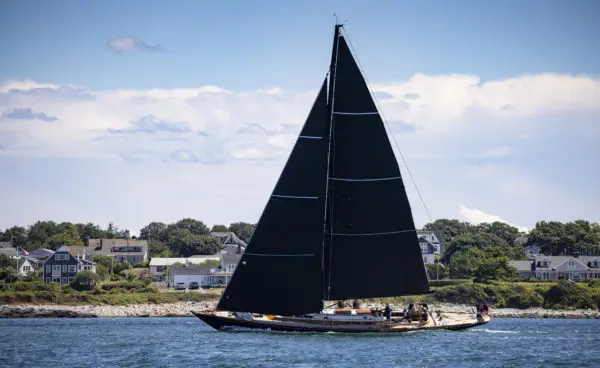 SW: What has been the biggest surprise in sailing Zemphira following her recent renovation?
BH: I think the boat surprised the entire race team with her performance – even by modern standards – which says a lot, given the caliber of crew we raced with. We had guys onboard with 3, 4, 5 America's Cups, multiple Olympic campaigns, many TP52 Cups etc and they all admitted that they came in with lower expectations but left on a cloud. The boat is really light and quick in all conditions, super light on the helm, and tweakable to the extreme. Just enough power to feel really lively but surefooted enough that we could also put the owner on the wheel without getting nervous (in the right conditions). And per the bow team "teak is way more comfortable on the butt than carbon & nonskid".
SW: Zemphira went through an extensive renovation period. What were the most challenging decisions that had to be made during the redesign and construction process?
BH: With any refit, most modifications come with some sort of compromise, and it's important to strike the right balance that meets the owner's use case and directive. From a 10,000 ft level, finding this balance is always my biggest challenge – in many refits past I have had to deal more with performance or reliability vs cost, but in this case we were most often dealing with performance vs comfort, or occasionally performance vs aesthetic. There were a couple of cases where we had to stop and ask you "can the boat handle this type of load" and we were pleasantly surprised to find that we were not really limited (by the design or structure) in how aggressive we could get with bigger/stiffer sails, rigging, and deck hardware.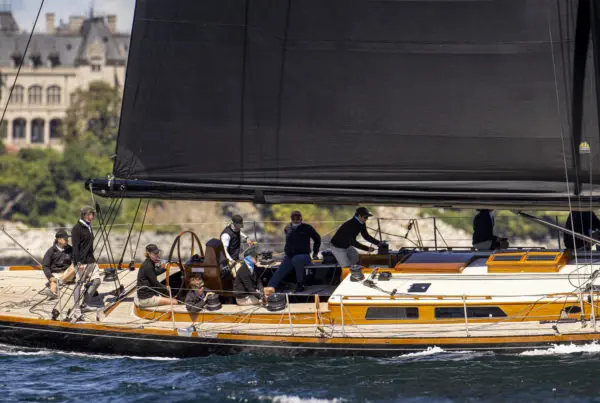 SW: How does Zemphira address the needs of her owners, from racing to daysailing to cruising? What modifications have contributed most to the owners' enjoyment of her in this first season of use?
BH: Zemphira certainly satisfied the owners' itch for racing and winning, I think our collection of silver from last Summer speaks to that. This style of racing (SoT) is unique because it is about style and aesthetic as well as on-water performance, and the owners – being classic yacht fanatics – were very happy with the overall look and appeal of the boat. To go a little bit deeper, part of the reason we took initial interest in Zemphira (ex-Goshawk) was that she offered a surprising amount of square footage on the deck, aft of the sailing cockpit and runner winches. This seemed to be tough to find on such long, narrow, classic designs with overhangs like Zemphira, but in this case the dimensions worked perfectly. Because these owners intended to sail and race with some older (and often inexperienced) friends/guests, we liked that we had the ability to offer guest seating back there which was well out of the way of all maneuvers and of all loaded lines & winches. The pulpit bench + bean bags turned out to be both effective and comfortable – all in all a huge hit for racing and for daysailing.
SW: Zemphira has always been a performance-forward sailing yacht, but she has recently cleaned up with some big regatta wins including three Class A wins at Safe Harbor Race Weekend in Newport, RI. How have the modifications changed her handling on the racecourse?
BH: Although I never got to sail her as Goshawk (as she was born),  the difference in performance numbers 'on paper' and on-water is dramatic. Design wise, the new keel & rudder really seemed to bring the boat to life and we were impressed with how balanced she was in all conditions. In the systems & hardware category, one of the most critical upgrades we made was the installation of a fully custom hydraulics system. This new system allowed us to turn the corners much faster than would've been possible with the original Harken system. Andrew also did a great job in designing an efficient deck layout for all the sheet leads, blocks, clutches, etc. Finally, Tony Rey of Doyle Sails got us some new rags which of course bring it all together. We started with a fairly light sail inventory (one, jib, one kite) since we planned on a new rig at some point, and this year we'll be adding a few more to that lineup. I think the whole crew was pretty happy with the shape and performance of the sails, an I think the black-on-black made for some striking photos.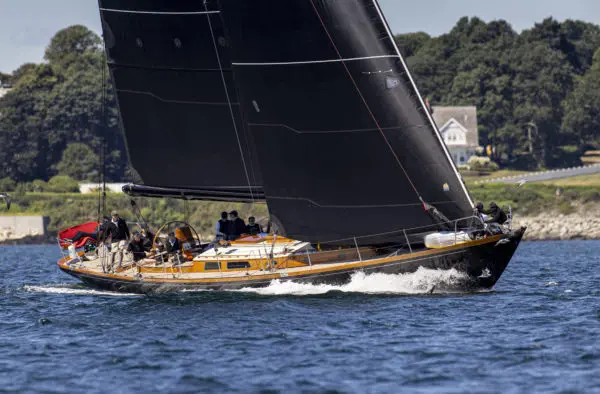 How have the modifications changed your (and the crews) relationship with the boat?
BH: I think I can safely speak for Andrew [on-board boat manager], Kirsty [captain], myself, and for the owners in saying that we've all fallen in lust with this boat. She's so stunningly beautiful that you almost forget how powerful of a weapon she is on a racecourse. We are really lucky that she landed in the hands of owners who are so passionate and qualified to treat the boat with the ongoing care and upgrades that she deserves, even despite some seriously expensive setbacks and surprises early on. In giving their crew (myself included) a blank slate, a healthy budget, and a long leash, they really got us excited and kept us excited about the project. It was extremely rewarding to look back during a race to see both owners sitting in a busy cockpit, hand on the wheel and big smiles on the face. I think everyone (some of the competitors included!?) is excited to see the boat back on the water next Summer.
SW: What are the future plans for Zemphira?
BH: We've just been given the greenlight to replace the spars, which were really the only components that were original to the boat – literally everything else onboard had been replaced or seriously modified during the past two winters. We have an Offshore Spars mast & boom on order, along with a set of EC6 carbon rigging. This is essentially 'the last step' (in my opinion) to fully turbo-charging the boat to her maximum potential. We'll spend this Winter at Lyman Morse again, who have done a really great job all along and even managed to make it an enjoyable process for the crew and outside contractors involved. Big shout out and thank you to Lyman, Andrew, Kirsty, to all of our contractors, the race team, and to the owners for allowing us to have so much fun on such a cool platform. Oh – and thanks to Stephens Waring for taking on such an involved role throughout this whole process!
Read More about Zemphira's Major Renovation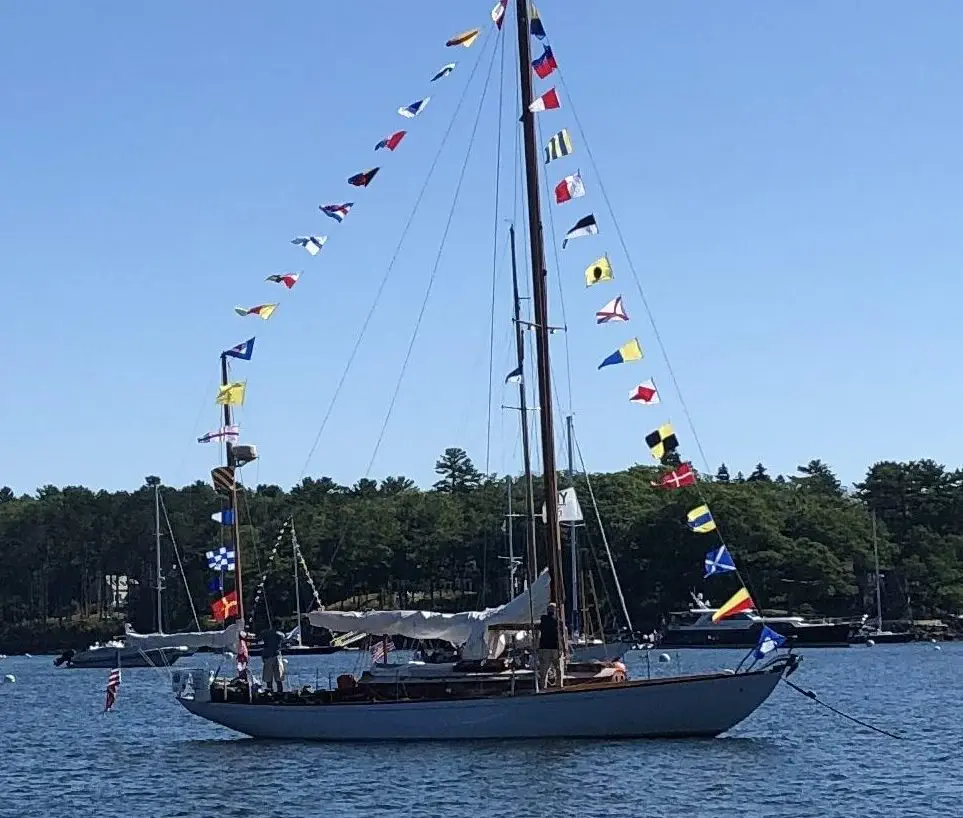 The Camden Classics Cup is an annual regatta sailed where 'the mountains meet the sea' off the lovely harbor town of Camden, Maine. The Camden Classics Cup is blend of on-the-water racing and stellar onshore events. ​This year's regatta lived up to the hype with exceptional weather both days, a great fleet and a humdinger of a party thrown by Lyman Morse complete with a ten piece band with horn section, raw bar, passed hors d'oeuvres and drinks, multiple open bars and amazing food to celebrate all of the new construction at the boatyard.
Our very own broker and WYP partner, Chris Fairfax, participated in this year's regatta, as Navigator and pit crew aboard the iconic 39′ Concordia yawl, WESTRAY, hull # 79 and built by Abeking & Rasmussen in 1960. Chris helped the current owners Juan Corradi and Christina Spellman purchase the boat some eleven years ago and has raced on her several times over the years in Maine for the Eggmoggin Reach Regatta and feeder races, in Marblehead and Newport as part of the Panerai Classic Yacht Series and on Narragansett Bay for the Herreshoff Classic Yacht Regatta.
This year Chris's wife Susan and youngest son Will were able to join as race-crew, which was a thrill. Chris relates:
"It was so much fun racing together as a family and reconnecting with Juan and Christina. And what a privilege it is to play and race on a Ray Hunt designed Concordia Yawl in one of the finest sailing grounds in the world- Penobscot Bay off of Camden, Maine. The weather could not have been better and the sailing conditions were close to ideal with a little bit of everything thrown into the mix, except NO FOG!! We also got to joust with four other Concordia yawls, which always adds to the excitement. After two years of Covid and being so insanely busy with yacht sales, this summer has felt a bit more normal, and it has been great to get our own Tartan 34 GLAD TIDINGS back in the water to cruise and to be able to participate in an event like the Camden Classics. It all serves as a reminder of why we love boats and do what we do!"
This is but one example of how our team at Wellington stays current by doing a myriad of activities with and on behalf of our clients from deliveries, training, managing refits, racing in regattas and using our own boats so we are up on the latest rules and regs., best restaurants, pro tips for secret moorings, available slips…you get the picture:) We hope to see you out on the water this summer!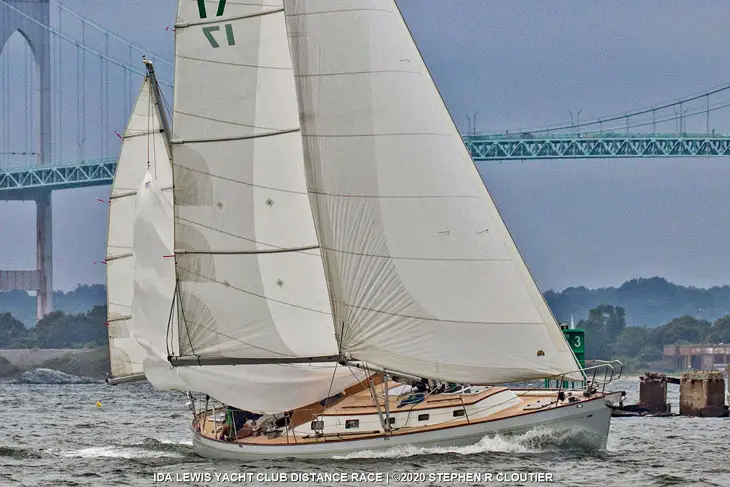 Winning the 13-boat PHRF Aloha Class and the Arthur Curtiss James Trophy for best corrected time was the 45' wooden yawl ZINGARA, owned by Mike McAllister (Providence, R.I.) and skippered by Bill Haynie (Newport, R.I.), who is her listing agent. "She's my favorite all-time boat: beautiful and surprisingly fast. We managed to get around efficiently and not break anything. We beat all the modern boats, and we did it with style." Haynie said he wasn't considering the event until he heard about the inshore option. "It was a home run for health and safety rules and so much fun, especially because of the wind."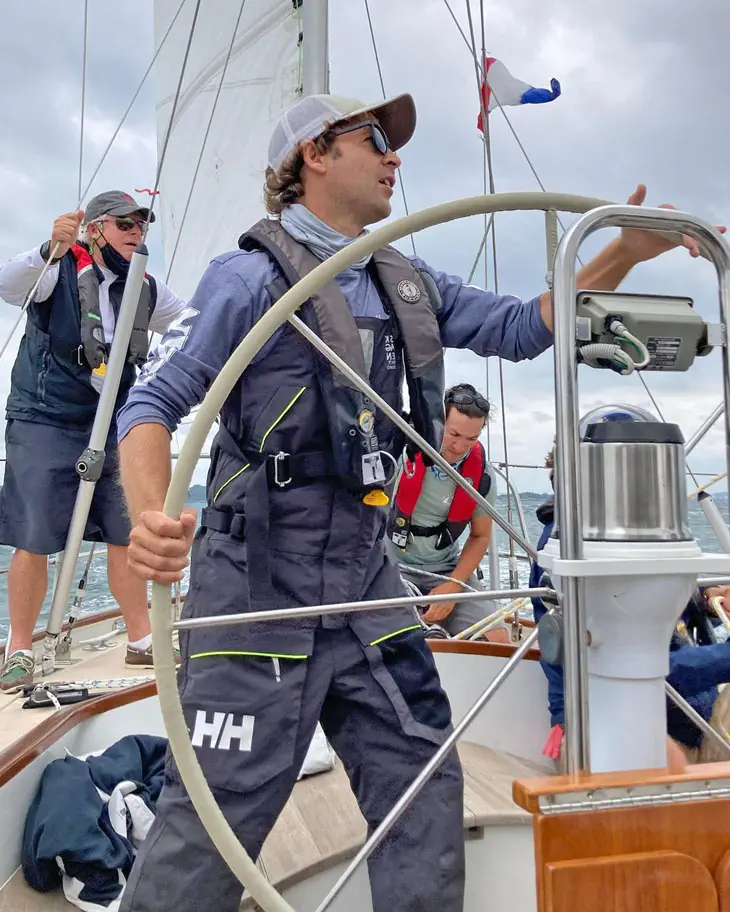 "The crew was quite a last minute band of ragamuffin sailors, from lifelong professionals, to experienced Corinthians, to total novices – and everything in between. Only two of them had ever sailed the ZINGARA before, and nobody onboard was being paid to race. All were there to enjoy a rare (for Summer 2020) day on the water on a very special boat."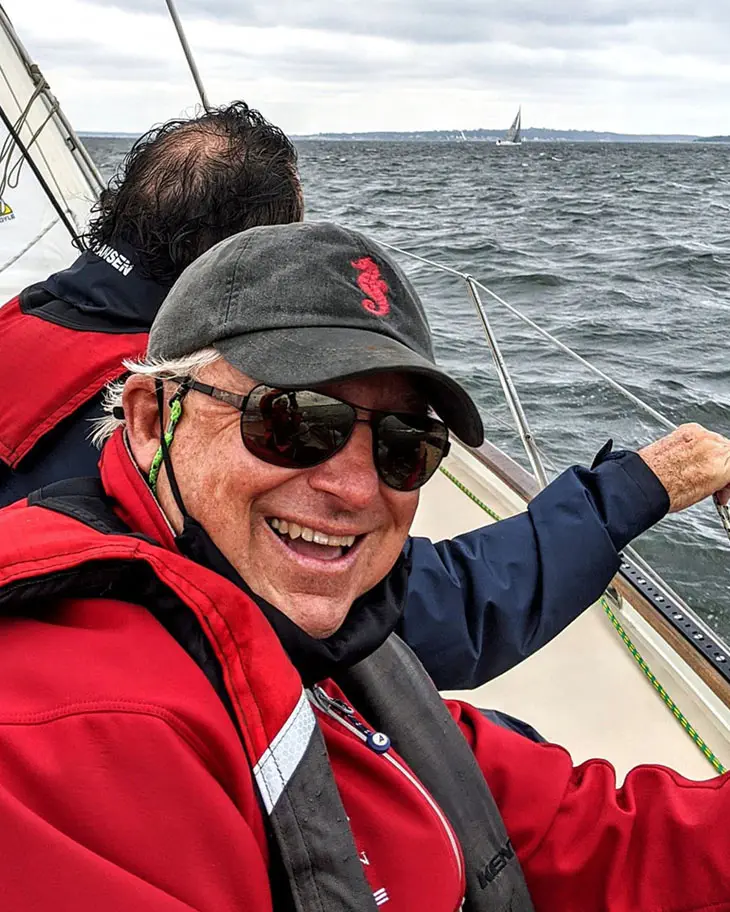 "The weather did not disappoint and neither did ZINGARA. We sailed in a steady 24+ knot breeze with gusts into the low 30's, and the sea state that accompanied as was as you might imagine. Despite the best efforts of mother nature and crew to stress and damage the deck hardware and rigging, ZINGARA proved herself worthy of the challenge and seemed to almost enjoy the romp through the heavy stuff – often crossing tacks with carbon sport boats that owed her many seconds per mile (and who would have otherwise eaten her for lunch in calmer seas). "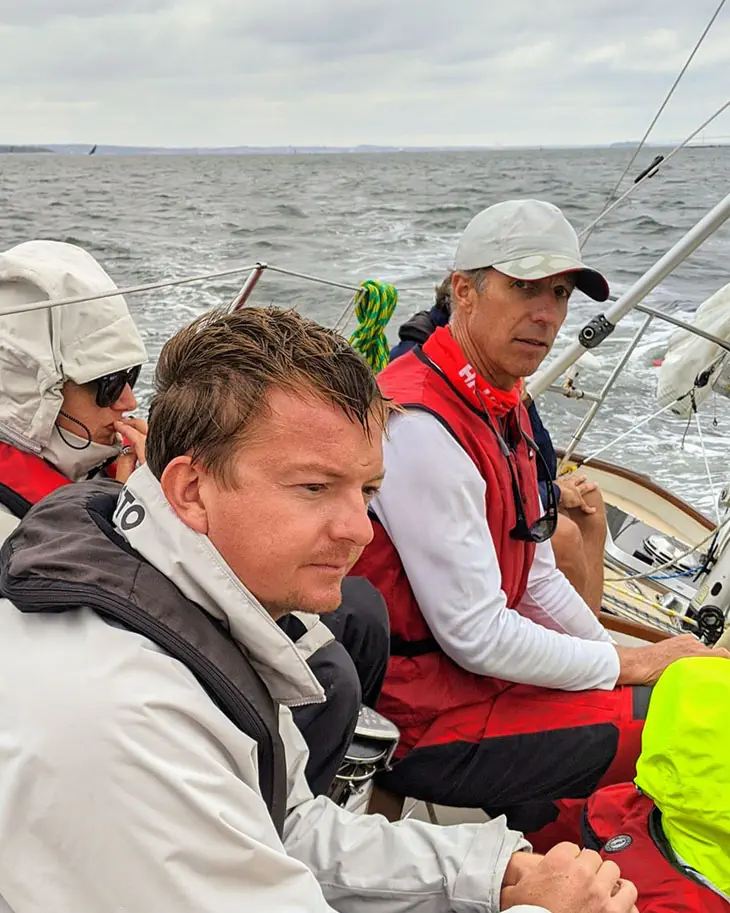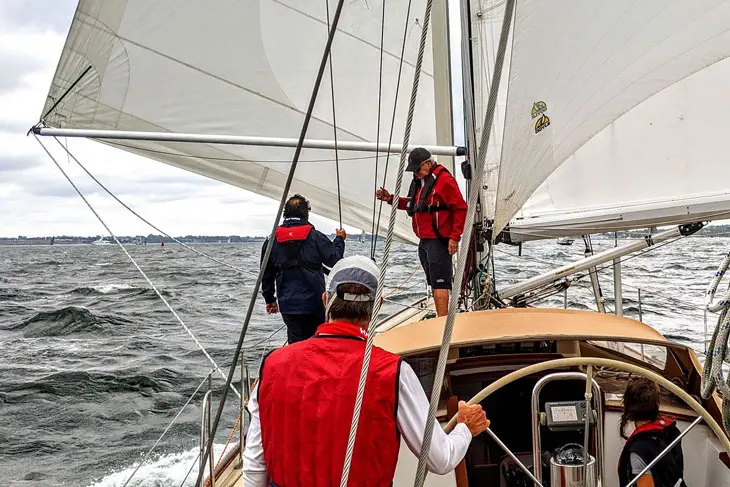 "After about 5 hours, 4 different helmsmen, and more tacks than any of the crew had completed all summer, ZINGARA finally approached the finish line off Ida Lewis like a freight train with a plane to catch. We were flying four sails (including our new favorite 'Mizzen staysail') and looking at the Newport Harbor basin with more than a little anticipation thinking "How are we going to stop this thing…?" After all was said and done, we found out we'd won our Class, and missed the overall podium by one place (out of 40+ boats). About a week later we were informed that the PHRF-NB committee had miscalculated our headsail handicap and that they would be retroactively applying the new rating to the race, which bumped us down to 2nd in Class. All in all, it was a fun, memorable day on the water with great crew on a fantastic boat."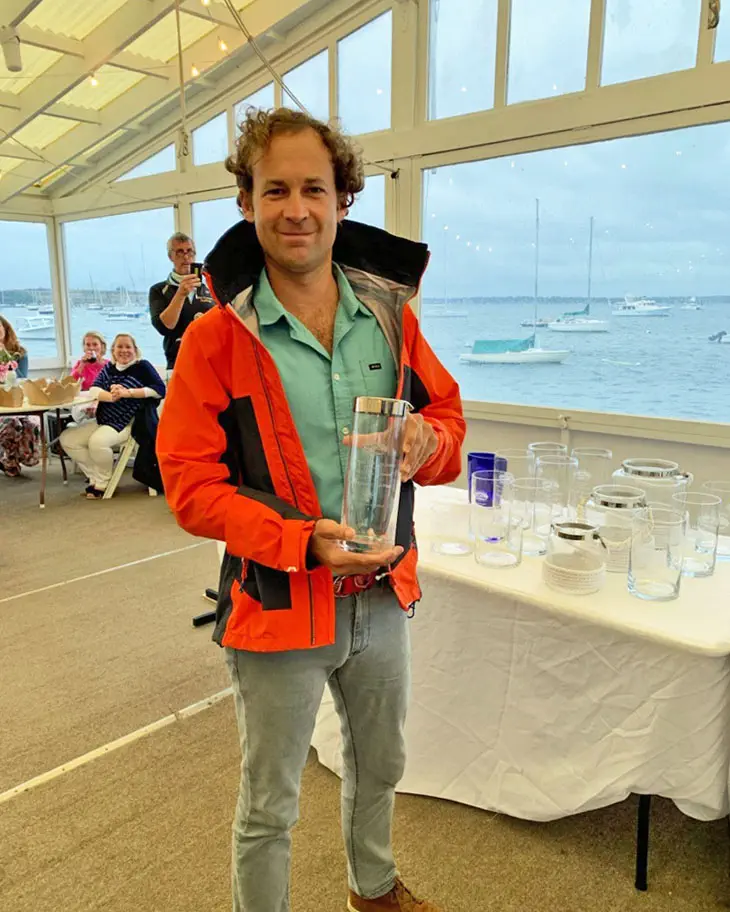 Ted was lucky to get out of the office for a few days for a relatively slow but enjoyable 635 mile race from Newport to Bermuda on the Hood/Lyman Morse 60 WINDWALKER II — his third race on the boat since selling her to the owner in 2010.
Many other Wellington clients were also in the race, with boats that included a Bristol 43.3, Oyster 53, Little Harbor 54, Hinckley 59 and Little Harbor 78.