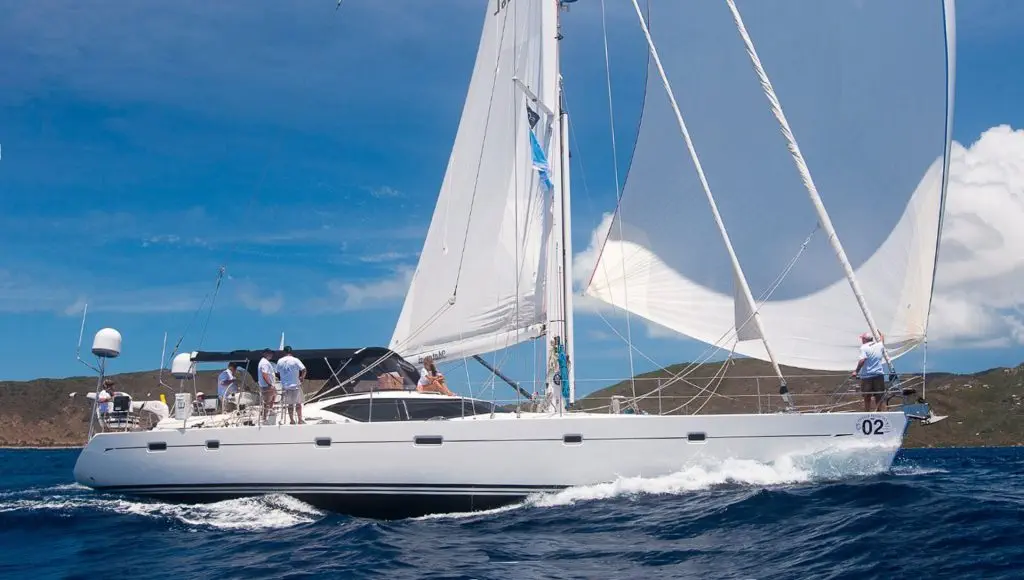 The Oyster 655, designed by Rob Humphreys, is one of the G5 generation of cutting-edge Oysters, utilizing carbon fiber and Kevlar to keep weight to a minimum. The 655 has been designed to cruise the world's oceans in comfort and style with an emphasis on performance. The 655 is a powerful, responsive yacht, equally at home providing thrills on the race course or as a comfortable long-distance cruising platform. In terms of detail and finish, the Oyster 655 will not disappoint.
A good number of these 655's are owner-driven, but an equal number carry full time crew. The versatile four-cabin/three-head layout works well for both. Of special note is the owner's cabin, which is quite large with its own companionway access on deck, and perfect for live-aboard and extended cruising scenarios.
MATAWAI has the preferred layout with access to the large forward foc'sle via a passageway from below, key for offshore sailing. Combined with the on-deck full-beam lazarette there is ample room for the cruiser and racer alike to store all the necessary kit such as scuba gear, inflatable SUPs, compressors, downwind sails, spare anchors, fenders – you name it!
The large sunken galley is open to the aft part of the salon, very much in keeping with today's lifestyle and preference for living and entertaining. But as important as the below deck spaces are, it is the cockpit on MATAWAI which is truly the focus and is nothing short of spectacular, anchored around a gorgeous teak table with built-in refrigeration, with loads of comfortable and protected seating. Twin wheels allow for enhanced sail handling and easy access to and from the large aft deck where more open-air seating in located with room for sunbathing as well.
MATAWAI is tastefully appointed and was updated extensively in both 2012, 2014, 2020 and 2022 (many details of which can be found in the listing). She is very well maintained and is priced accordingly. She represents a best-in-class opportunity amongst Oyster 655s and a great value in the market at large.
We invite your serious inquiry and close inspection. One has to see the engine room, bilge areas and organized lockers to fully appreciate just how "dialed in" this yacht truly is.