By Bob Marston
Partner, Wellington Yacht Partners
It goes without saying that it has always been important to prep your boat before putting it on the market. Making sure it is clean, machinery is serviced, all equipment is working, and safety gear is up to date are all essential to having a smooth sale process.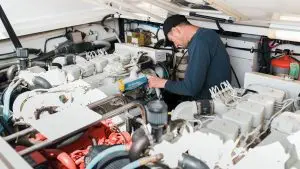 In today's market we are witnessing a new dilemma with the availability of replacement parts and qualified technicians. If you wait until your boat is under contract you may find yourself waiting eight weeks for that "heat exchanger", or six weeks for an electrician to diagnose "why the radar is not working." Buyers become impatient and move onto other options.
At Wellington Yacht Partners we are now advising owners to complete a thorough inspection of their boat, and in some cases a pre-survey to identify issues early, leaving enough time to get them repaired properly for market and a new buyer.