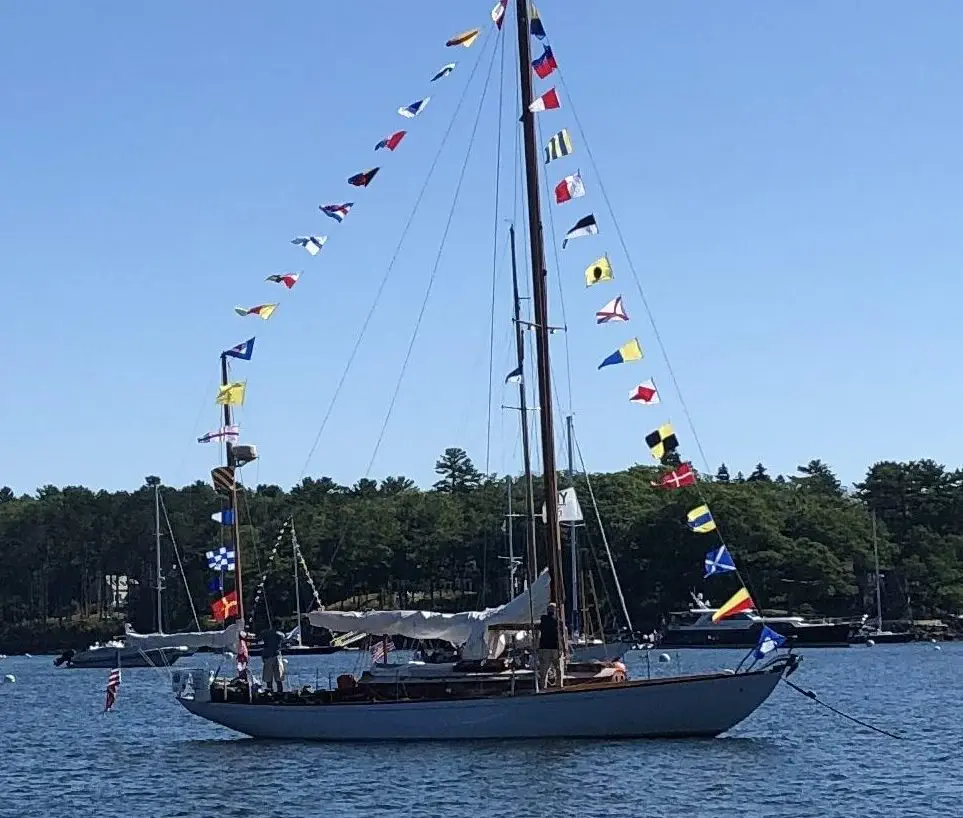 The Camden Classics Cup is an annual regatta sailed where 'the mountains meet the sea' off the lovely harbor town of Camden, Maine. The Camden Classics Cup is blend of on-the-water racing and stellar onshore events. ​This year's regatta lived up to the hype with exceptional weather both days, a great fleet and a humdinger of a party thrown by Lyman Morse complete with a ten piece band with horn section, raw bar, passed hors d'oeuvres and drinks, multiple open bars and amazing food to celebrate all of the new construction at the boatyard.
Our very own broker and WYP partner, Chris Fairfax, participated in this year's regatta, as Navigator and pit crew aboard the iconic 39′ Concordia yawl, WESTRAY, hull # 79 and built by Abeking & Rasmussen in 1960. Chris helped the current owners Juan Corradi and Christina Spellman purchase the boat some eleven years ago and has raced on her several times over the years in Maine for the Eggmoggin Reach Regatta and feeder races, in Marblehead and Newport as part of the Panerai Classic Yacht Series and on Narragansett Bay for the Herreshoff Classic Yacht Regatta.
This year Chris's wife Susan and youngest son Will were able to join as race-crew, which was a thrill. Chris relates:
"It was so much fun racing together as a family and reconnecting with Juan and Christina. And what a privilege it is to play and race on a Ray Hunt designed Concordia Yawl in one of the finest sailing grounds in the world- Penobscot Bay off of Camden, Maine. The weather could not have been better and the sailing conditions were close to ideal with a little bit of everything thrown into the mix, except NO FOG!! We also got to joust with four other Concordia yawls, which always adds to the excitement. After two years of Covid and being so insanely busy with yacht sales, this summer has felt a bit more normal, and it has been great to get our own Tartan 34 GLAD TIDINGS back in the water to cruise and to be able to participate in an event like the Camden Classics. It all serves as a reminder of why we love boats and do what we do!"
This is but one example of how our team at Wellington stays current by doing a myriad of activities with and on behalf of our clients from deliveries, training, managing refits, racing in regattas and using our own boats so we are up on the latest rules and regs., best restaurants, pro tips for secret moorings, available slips…you get the picture:) We hope to see you out on the water this summer!